PERPETUAL™ LIFETIME WARRANTY
Congratulations on your Griffin Armament purchase!
For over 12 years Griffin Armament has been focusing on manufacturing quality, value driven products that have a high end user satisfaction. We pour vast resources into the product from development, to engineering, manufacturing and quality control. Our products are built to last a lifetime and we are excited to be a part of so many Americans firearms collections.
GRIFFIN ARMAMENT PERPETUAL LIFETIME WARRANTY
For the life of the product, we will repair or replace the product at no charge to you if it becomes damaged or defective for any reason other than loss, theft, or misuse.
• No warranty card or registration needed
• No receipt required
• Warranty is fully transferable to future owners of the product.
With tens of thousands of satisfied customers we have the confidence to offer you one of the best warranties in the industry. Our commitment to customer service and satisfaction is equally as important as our commitment to product quality and value. Our Perpetual™ Warranty will always be there to take care of our customers.
"Sent in a 10 year old pistol silencer when my pistol started jamming with it on. They replaced the booster piston and sent it back for free. Didn't expect that! Thanks Griffin"- Frank G - Texarkana, TX
BURNED IN A HOUSE FIRE - STILL STRONG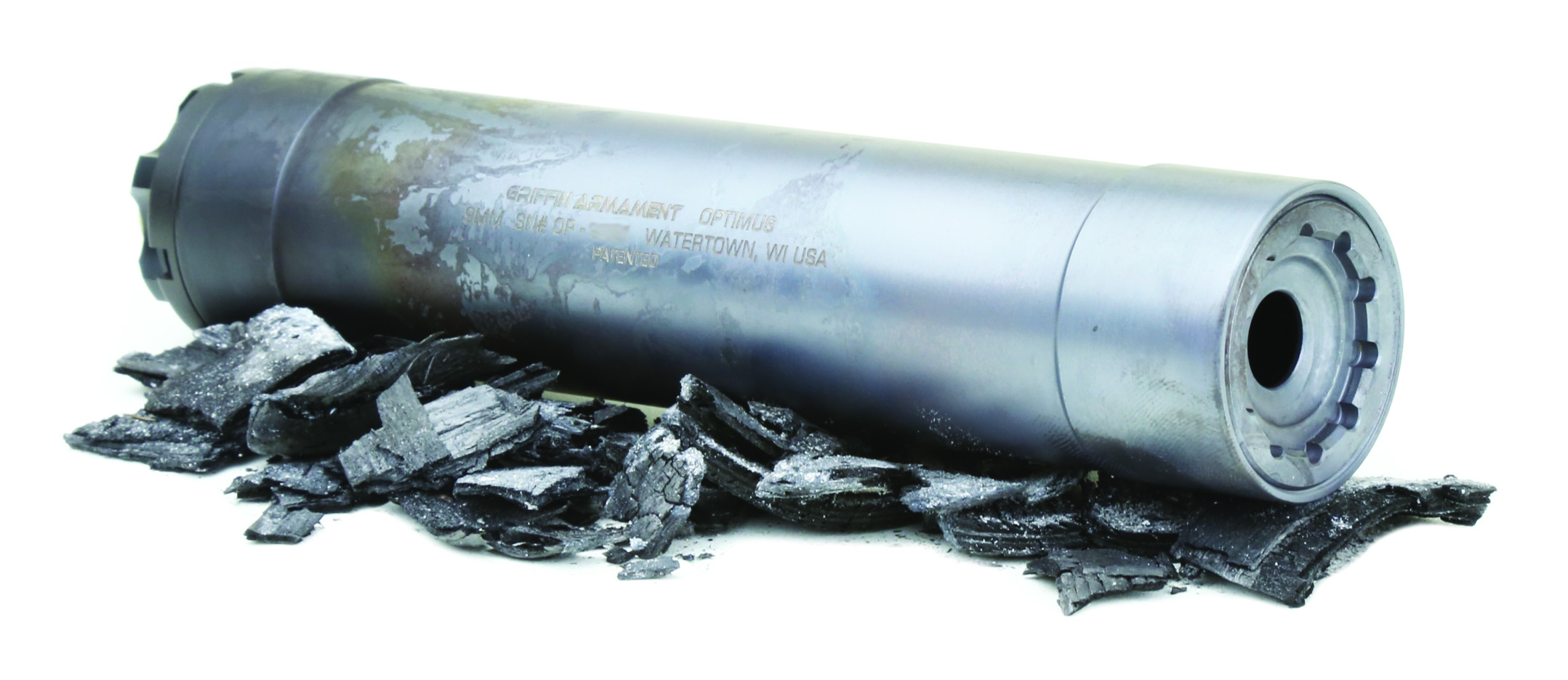 Owners hunting cabin burned down, luckily no one was injured but most everything was destroyed. His Optimus® 9 suppressor was found after searching through the aftermath and it was charred but still functioned as new from the factory. Griffin products are known for their strong build quality and toughness.
Thousands upon thousands of Griffin products have been sold over the past decade and only a handful each year return for speedy customer service corrections.
"Have been very impressed with my Griffin suppressors. I hunt elk out west every year and need reliable gear to make it a success. My cans have been through everything and still function like new! " Norbert K Ironwood MI
"Great warranty support! I got my micro sights back in a few days and was delighted to see they were brand new. Looking forward to getting back out to the range! keep up the good work guys!" - Richard D - Redding CA
LIMITATIONS
Griffin Armament's warranty does not cover loss, normal wear, damage to our product or the host weapon system resulting in whole or in part from abusive or negligent use, unauthorized modification, improperly threaded barrels, improperly mounted suppressors, improperly loaded or reloaded ammunition, or neglect. Finish wear is cosmetic and is not covered by this warranty. Any repairs to the unit made necessary by the above mentioned factors may be invoiced to the owner at a maximum of 30% of current MSRP for the most compatible product. the individual barrel length and calibers warranted are listed in the manual you receive with your product or on the product page [applicable only to the most current model of the respective product]. In all cases, refer to the product manual for limitations prior to using a Griffin Armament product. Warranty is subject to change without notice.